"We got you something for your birthday to remind you of your mortality," Sam said.

Daniel and Max followed him into my office and the three of them proceeded to present me with a box that contained the skull pictured above.

"Thanks," I told them. "Very thoughtful!"
Some years ago, a religious sister with the epic name Sr. Theresa Aletheia Noble, received a ceramic skull during a retreat. This began her daily meditations on death, about which she tweeted, chronicling her new insights that came from keeping a skull on her desk. Working on Parliament Hill, I particularly appreciated Day 6.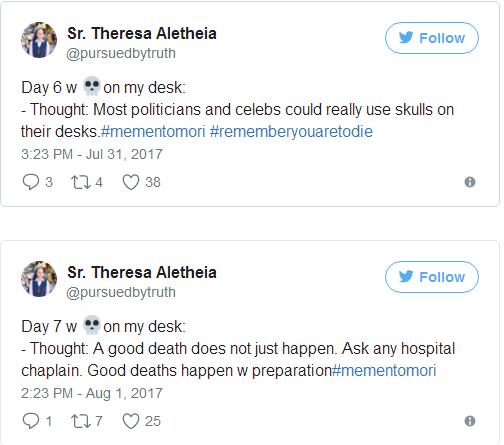 Sister Theresa Aletheia's tweets developed into the Memento Mori project, and she is now selling a range of products, including: Memento Mori Decade Bracelets with which to contemplate the Last Things; a prayer book to help you live for heaven; and, Remember Your Death Lenten Devotionals and Journals. Sister Theresa Aletheia is committed to continuing and reviving this longstanding Christian tradition because, she says, "by keeping death 'daily before one's eyes,' life is made better."

This makes me recall the beginning of Robert Bellarmine's The Art of Dying Well in which he says: "But the general rule, 'that he who lives well, will die well,' must be mentioned before all others: for since death is nothing more than the end of life, it is certain that all who live well to the end, die well; nor can he die ill, who hath never lived ill; as, on the other hand, he who hath never led a good life, cannot die a good death."

And so, I'm grateful for the eminently practical birthday gift of a skull on my desk!